Brian May's Red Special
The Story Of The Home-Made Guitar That Rocked Queen And The World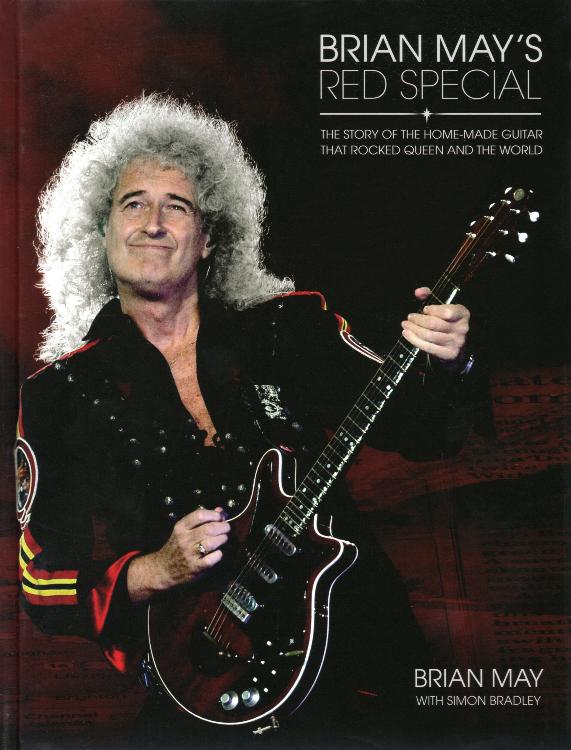 "Brian May's Red Special" was published on 1 October 2014, and was written by Brian May with guitar journalist Simon Bradley. It is based on a series of interviews with Brian, assembled by Simon Bradley, rather than being specifically written together.

The book features 144 pages, and explains how Brian and his father Harold built his iconic guitar, featuring original design drawings and sketches, photographs of it's construction and restoration, and numerous photographs of various performances. It contains the following six chapters:

Chapter 1 : Father To Son
This concentrates on Brian's early life, musical influences and his relationship with his father
Chapter 2 : A Guitar Is Born
This covers the design of the guitar itself, featuring some of Brian's original drawings and sketches
Chapter 3 : The Works
This looks at the construction of the guitar, covering each part in turn, with photographs of it's disassembled parts, many taken during Greg Fryer's restoration in 1998
Chapter 4 : The Queen Days
This includes interviews with Brian's guitar technicians Richie Anderson (1975-8), Brian Zellis (1978-92) and Pete Malandrone (1994 onwards)
Chapter 5 : On The Roof
An account of the Buckingham Palace concert, written by Brian immediately after the show
Chapter 6 : The Red Special In Production
This features the various reproduction models which have been manufactured, including the Guild, Burns, and Brian May Guitars models


An Italian version, titled "La Red Special di Brian May" and translated by Raffaella Rolla, was released on 29 October 2015.
The book was revised and republished on 1 October 2020, with two additional chapters, and translated into Spanish and published in March 2022.

Scans of the book appear at the end of this page, while more information can be found at the book's website, http://www.theredspecial.com/. See also the Red Special page, which features details of the guitar and photographs of a reproduction copy.


The following is taken from the back of the book itself:
"My dad and I decided to make an electric guitar. I designed an instrument from scratch, with the intention that it would have a capability beyond anything that was out there, more tunable, with a greater range of pitches and sounds, with a better tremolo, and with a capability of feeding back through the air in a 'good' way'."

Brian May and his father Harold started to hand-build an electric guitar in 1963. Brian dreamed of a guitar that would outperform any of the existing commercially made electric guitars; his father had the technical knowledge and skills to help make the dream come true. Brian played this guitar on every Queen album and in all of the band's live shows around the world. In this book you will discover everything about Brian's unique instrument.

Brian talks about every aspect of the Red Special, from his original design to making his own tools, and from sourcing materials around the house to the legendary performances; Live Aid, the closing ceremony of the 2012 Olympics, and on the roof of Buckingham Palace. All of this is accompanied with original diagrams, sketches and notes, as well as a great selection of photographs including close-ups, X-rays and Brian performing.
---
Front and Back Sleeves.....
.....2020 Version Front Sleeve and Italian Front Sleeve (titled 'La Red Special di Brian May')
---