51 Degrees North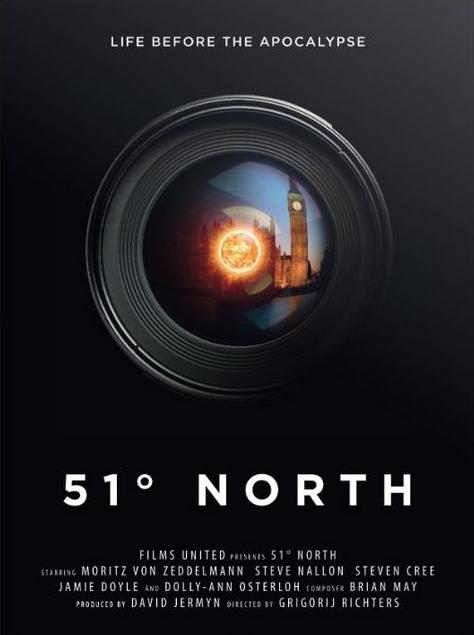 Overview
Queen Involvement
Cast
---
Directed by Grigorij Richters
Produced by Alexander Souabni and Grigorij Richters

Premiered at the 'Starmus' Festival in 2014 and released on 30 June 2015.
Length 88 minutes.

'51 Degrees North' is a disaster film set in London. The basic plot is that a young filmmaker discovers that the Earth is on the brink of a collision with a number of asteroids. He is challenged to film the last moments of Earth, in exchange for tickets on a space station to allow his wife and unborn child to survive the impact. The film is told through the eyes of his son, using the footage he shot.

The film was shot in London, between 2011 and 2014. It is partly set in Piccadilly Circus, featuring 2,500 extras, making it the largest ever production filmed there.

A Kickstarter campaign was launched in April 2015, to raise funds to cover the post-production costs of the movie. This featured rewards including a personalised voicemail greeting from Brian, and a unique Red Special guitar featuring a piece from an actual asteroid.

The film is apparently also known as "The Last Days On Earth".

Director Grigorij Richters also worked extensively on the promo video for the Brian May and Kerry Ellis track 'One Voice'.
---
Brian composed the soundtrack for the film, some of which was recorded at Sarm Studios in England.

At current, neither the film nor the soundtrack have been released, so I do not have any information about the tracks.

Two videos are available on YouTiube, one is a 51 second trailer for the film, the other is an 11 minute video featuring many elements from the soundtrack. The soundtrack appears to feature atmospheric music, with some piano, guitar and feedback noise, rather than actual songs.
---
Moritz von Zeddelmann - Damon Miller
Steven Cree - Michael Burlington
Steve Nallon - Professor Richards
Jamie Doyle - Frank
Dolly-Ann Osterloh - Ann
---