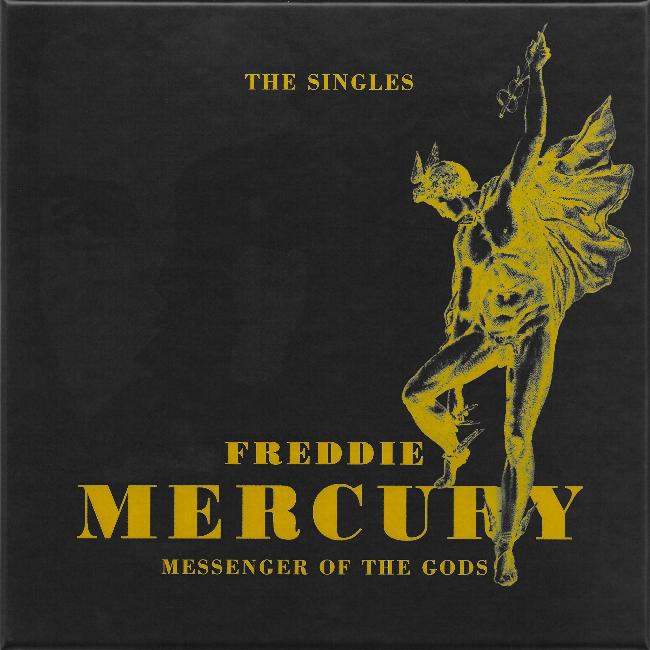 'Messenger Of The Gods' is a boxed set released on 2 September 2016. It contains 13 coloured vinyl 7" singles, covering all of Freddie's original release singles from 1984 to 1993, plus the 1973 Larry Lurex single 'I Can Hear Music'. The only omissions are the reissues of 'Barcelona', 'How Can I Go On' and 'The Great Pretender'.

Each single is presented in it's original UK artwork, with new labels, and some minor changes for copyright and record company information. Sadly, the set does not reproduce the five singles which were originally released as picture discs, namely 'Love Kills' and 'How Can I Go On' (7" singles), 'Made In Heaven' and 'The Great Pretender' (7" shaped picture discs), or 'Barcelona' (12" single).

In total, the set contains 25 tracks, and 22 of these are identical to their original releases. The three changes are a slight edit of 'I Can Hear Music', and the 2000 Remixes of 'Time' and 'In My Defence'. 'Love Kills' is a one-sided disc, as the original B-side, 'Rotwang's Party', is a Georgio Moroder track with no Freddie involvement.

The outer box measures 7.5" x 7.5" x 2" (19cm x 19cm x 5cm) and also contains a colour book and an MP3 download voucher.

The set was also released as a double disc album, with the A-sides as disc 1 and the B-sides as disc 2, although the tracks were rearranged.
---
I Can Hear Music




Translucent blue vinyl

01. I Can Hear Music (slight edit)
02. Going Back (original version)

Love Kills




One sided translucent orange vinyl

01. Love Kills (original version)

I Was Born To Love You




Translucent yellow vinyl

01. I Was Born To Love You (album version)
02. Stop All The Fighting (original version)

Made In Heaven




Translucent red vinyl

01. Made In Heaven (single version)
02. She Blows Hot And Cold (original version)

Living On My Own




White vinyl

01. Living On My Own (single version)
02. My Love Is Dangerous (album version)

Love Me Like There's No Tomorrow




Red vinyl

01. Love Me Like There's No Tomorrow (album version)
02. Let's Turn It On (album version)

Time




Blue vinyl

01. Time (2000 Remix)
02. Time (instrumental version)

The Great Pretender




Translucent orange vinyl

01. The Great Pretender (original version)
02. Exercises In Free Love (Freddie vocal)

Barcelona




Clear vinyl

01. Barcelona (single version)
02. Exercises In Free Love (Montserrat vocal)

The Golden Boy




Gold vinyl

01. The Golden Boy (single version)
02. The Fallen Priest (single version)

How Can I Go On




Translucent green vinyl

01. How Can I Go On (single version)
02. Overture Piccante (album version)

In My Defence




Translucent pink vinyl

01. In My Defence (2000 Remix)
02. Love Kills (Wolf Euro Mix)

Living On My Own

(remix)




Yellow vinyl

01. Living On My Own (1993 Radio Mix)
02. Living On My Own (1992 Album Mix)
---