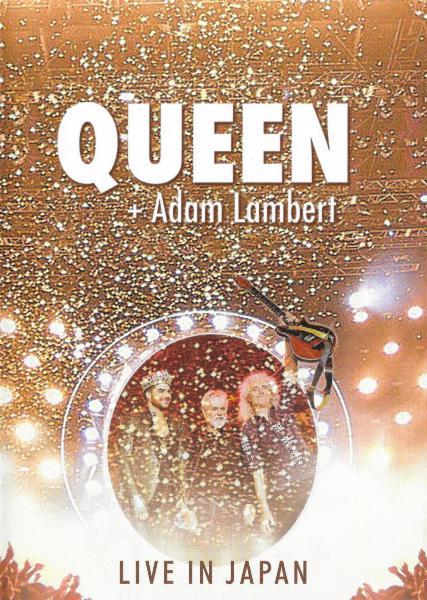 Released on 20 December 2016 in Japan only.
Length 80:38.
Tracklisting:
1. Procession
2. Now I'm Here
3. Stone Cold Crazy
4. Another One Bites The Dust
5. Fat Bottomed Girls
6. In The Lap Of The Gods... Revisited
7. Seven Seas Of Rhye
8. Killer Queen
9. I Want It All
10. Teo Torriatte (Let Us Cling Together)
11. Love Of My Life
12. These Are The Days Of Our Lives
13. Under Pressure
14. I Was Born To Love You
15. Radio Ga Ga
16. Crazy Little Thing Called Love
17. Bohemian Rhapsody
18. We Will Rock You
19. We Are The Champions
20. God Save The Queen
Directed by Chikara Tanaka A.K.A.Riki
Produced by Shino Hayasaka (WOWOW) and Kota Akutsu (Win's Moment)

Executive producer: Kohshiro Yamashita (WOWOW)
Executive producers for Eagle Rock: Geoff Kempin and Terry Shand
Music production by Justin Shirley-Smith and Joshua J. Macrae
Additional music mix production by Kris Fredriksson
Music mastered by Tony Cousins at Metropolis Mastering
Video post production supervision by Justin Shirley-Smith and Kris Fredriksson

Queen management: Jim Beach
Adam Lambert management: Direct Management Group


Recorded live at the Super Sonic Festival at the QVC Marine Field, Chiba, Tokyo, Japan, on 17 August 2014.


This Japanese-only release was available on both DVD and Blu-ray in five different formats, namely in a standard case, in an embossed slipcase, in a slipcase with a CD album, in a slipcase with a CD album and T-shirt, or as a Super Deluxe Boxed Set, which included the DVD or Blu-ray, with a CD, double clear vinyl LP, T-shirt, Tote bag, booklet, and 76 page photo book. The CD and DVD/Blu-ray content is identical, but the DVD/Blu-ray features more audience and firework noise at the end, over the credits.

The original release was on 20 December 2016 but it also appears to have been re-issued, possibly on a different label, on 19 April 2017.

The Blu-ray main menu features audience noise which loops, and has options to play the concert, select a song, change audio (LPCM stereo or DTS-HD master audio) or subtitles (MC and lyrics, MC only, lyrics only, or off). The disc contains five titles, with titles 1 and 2 containing promos for Eagle Rock and Ward Records, titles 4 and 5 are used by the menu, and title 3 features the concert itself, divided into 21 chapters (one for each track, and one for the end credits). There is no bonus material.

The release features the entire unedited concert, although as it was a festival performance it is a shorter setlist than normal. It also includes some of Freddie's vocals from Wembley 1986 on 'Love Of My Life' and 'Bohemian Rhapsody'.
---
---
---
---
---
---
---
---
---
---
---
---
---
---
---
---
---
---
---
---
---