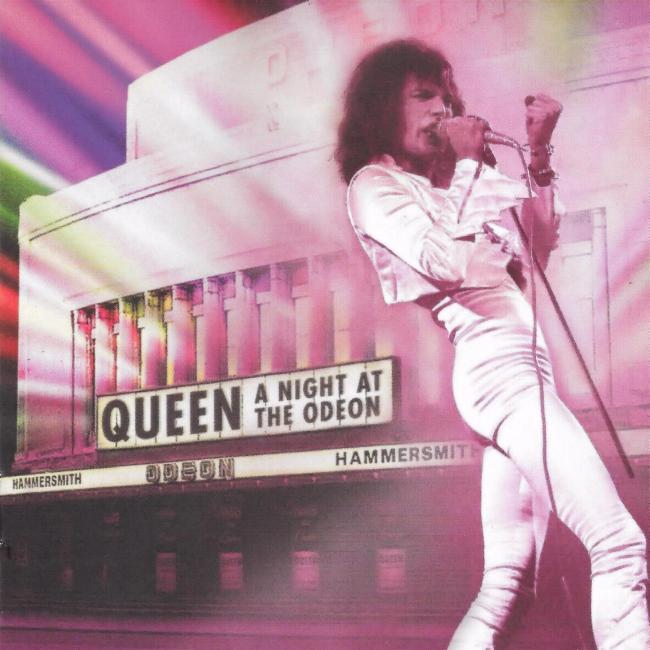 Released on 20 November 2015, and reached no 40.
Length 73:21.
Tracklisting:
1. Now I'm Here
2. Ogre Battle
3. White Queen
4. Bohemian Rhapsody
5. Killer Queen
6. The March Of The Black Queen
7. Bohemian Rhapsody (reprise)
8. Bring Back That Leroy Brown
9. Brighton Rock
10. Guitar Solo
11. Son And Daughter
12. Keep Yourself Alive
13. Liar
14. In The Lap Of The Gods.... Revisited
15. Big Spender
16. Jailhouse Rock (medley)
17. Seven Seas Of Rhye
18. See What A Fool I've Been
19. God Save The Queen

Boxed Set Bonus Track:
Now I'm Here (soundcheck)
Queen are:
Freddie Mercury - lead vocals and piano
Brian May - guitars and backing vocals
John Deacon - bass guitar and backing vocals
Roger Taylor - drums and backing vocals
No synthesizers!

Recorded live at the Hammersmith Odeon, London, England, on 24 December 1975.

Management: Jim Beach
Producers: Roger Taylor and Brian May
Mix produced by Justin Shirley-Smith, Joshua J. Macrae and Kris Fredriksson
Recording engineers: Graham Haines, Adrian Revell, Martin 'Tom' Tranter, David Goatham and Chris Jenkins
Clarity tape transfer, sync and speed stabalization by Jamie Howarth and John K. Chester, Plangent Processes
Mastered by Tim Young at Metropolis Mastering
Cover artwork: Marmalade London
Cover photograph: Mark Charnock
Hammersmith Odeon live photographs: Douglas Puddifoot
Art direction and design: Matt Read and Greg Brooks
Queen archivist: Greg Brooks
PR: Phil Symes


This album was released as a single CD, double LP, CD+DVD set, and CD+Blu-ray set. It features the complete show, and was also simultaneously released on DVD and Blu-ray, losing two tracks. The CD, DVD and Blu-ray were all released together in a boxed set which also contains replica memorabilia from the concert, and a 12" single containing a soundcheck recording of 'Now I'm Here', which was the first time any Queen soundcheck had been officially released.

The concert was performed on Christmas Eve 1975 and broadcast live on BBC Radio 1 and BBC 1, at 10:00pm, as an 'Old Grey Whistle Test' special, with an intro by Bob Harris, the end of which was included on the release. As a result of the broadcast, the show became one of Queen's most widely bootlegged recordings, and three bootlegs from the 'Top 100 Bootlegs' project feature tracks from the show, namely 'Xmas At The Beeb' (16 tracks), 'Rhapsody In Red' (15 tracks) and 'Rogues & Scandals' (5 tracks). Between them, they feature the complete show, albeit with an edited version of the 'Jailhouse Rock' medley. Like many other bootlegs of the show, they featured an incorrect tracklisting, with 'Keep Yourself Alive' before 'Brighton Rock'.

Several tracks had been officially released before, as 'Now I'm Here' and 'White Queen' were released on the 'Sheer Heart Attack' and 'Queen II' 2011 album reissues, while 'Ogre Battle' and 'Son And Daughter' were released on the 'Queen II' and 'Queen' 2011 iTunes LP's as bonus videos. The 'Rare Live' video features excerpts of 'Keep Yourself Alive', and edited versions of 'Big Spender' and the 'Jailhouse Rock' medley. 'The March Of The Black Queen' was later included on the 'Greatest Hits In Japan' DVD.
---
---
---
---
---
---
---
---
---
---
---
---
---
---
---
---
---
---
---
---